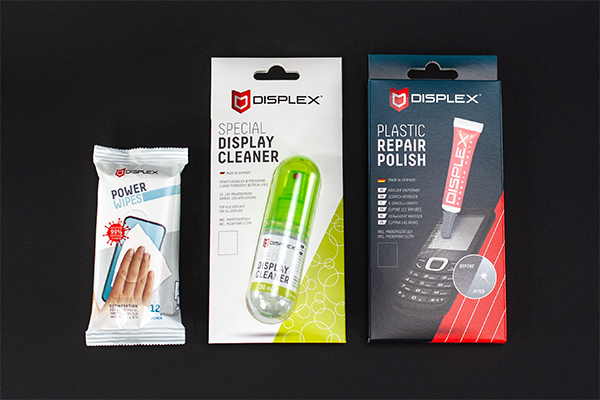 CARE & REPAIR
Für die blasenfreie Montage und zum optimalen Schutz eines Displays bzw. Panzerglases ist die gründliche Reinigung und Pflege unabdingbar. Da DISPLEX Schutzgläser mit einer High-Tech Anti-Fingerprint-Beschichtung ausgestattet sind, empfehlen wir für ein optimales Montageergebnis bzw. dauerhafte Pflege die speziell abgestimmten DISPLEX Reinigungs- und Pflegeprodukte: zur optimalen Reinigung des Originaldisplays bzw. Panzerglases empfehlen wir den DISPLEX Special Cleaner, DISPLEX Power Wipes zur antibakteriellen bzw. viruziden Spezialreinigung und DISPLEX Plastik Kratzer Entferner für die Reparatur verkratzter Kunststoff-Oberflächen.
Choose your display screen protection
Two steps to your optimal screen protection
No results were found for the filter!